Ray began training Judo in 1994 in Baton Rouge, La. In 1995, he moved to Philadelphia and joined the Philadelphia Judo Club under head instructor Art Bourgeau. After 15 years he was promoted to yodan (4th degree black belt). Competition highlights include silver and bronze medals at Judo Nationals (Masters) , one gold & several silver medals at Am-Can International & multiple medals at the Liberty Bell Judo Tournament and numerous other regional medals.
In 1998, he began cross training in BJJ. In 2005, after medaling at Grapplers Quest, NAGA, and many national events, he was awarded his brown belt. Ray won both gold & silver medal at Pan-Ams as a brown belt. As a blue & purple belt he won multiple championships, including Relson Gracie National, Grapplers Quest, NAGA and Saulo Ribeiro Association. In 2013, after 17 years of BJJ, 7 of them as a Brown Belt, Ray was awarded his black belt.
In 2018, after an intensive process, both Ray and Osagame were accepted into the Marcelo Garcia Association. We are proud to be affiliated with Marcelo who is both a great competitor and a great person.
In 2009 after 27 years as head instructor, Art passed the title of Head Instructor of the Philadelphia Judo Club to Ray. He becomes the tenth head instructor in the 70 year of history of the Philadelphia Judo Club.
Having recently returned from the much sunnier Hawaii, Ron is a decorated competition in both Judo and BJJ. Ron began his Judo career in Louisiana with his brother Ray. After moving to Philly, Ron also took up BJJ with Ray in the late 90's. A very successful competitor, Ron brings a unique perspective to the Osagame family.
Ranked San-Dan (3rd dan) in Judo and a 4 stripe brown belt in BJJ.
Eric began in Tae Kwon Do but shortly after college he found BJJ and never looked back. A job change took him to Philadelphia, where he found The Philadelphia Judo Club.
Eric was a Blue Belt in BJJ when he started cross training in Judo for the sole purpose of improving his standup for BJJ tournaments. He immediately saw a huge improvement in his standup technique and was pleasantly surprised by how much Judo helped his ground game as well. To this day Eric credits Judo with helping him make the leap from Blue Belt to Purple Belt.
Eric holds Black Belts in Judo and Jiu Jistu. His has won multiple medals in both Judo and Jiu Jitsu. Eric has medaled at NAGA, Grapplers Quest, The Good Fight, Philadelphia Cup & multiple Saulo Ribeiro Association tournaments. He has also accumulated a long list of medals from Judo tournaments, including: Princeton Judo Invitational, Eastern, Maryland Open, Liberty Bell, Beltsville and many more.
Most notably Eric won a streak of Gold medals at the IBJJF NY International Open.
2011 - Purple Belt NY Open Gold
2012 - Brown Belt NY Open Gold
2013 - Brown Belt NY Open Double Gold
2014 - Brown Belt NY Open Double Silver
Eric strongly emphasizes cross training between Judo, BJJ, and overall physical conditioning.
Lee is a certified Judo Instructor and Nidan (2nd degree black belt) in Judo and a Brown Belt in BJJ. Lee typically runs our Sunday No-gi class. Lee likes to bike to and from all of his classes all the way from Germantown.
Eric has been involved in martial arts for most of his adult life. A practitioner of Judo andBJJ for over 20 years, Eric is the main instructor of the Kids BJJ program and has developed most of the curriculum. In his spare time, Eric likes to collect Shoyoroll gis, work with his hands, and hang out with his dogs. '
Eric is a Shodan (1st Dan) in Judo and a BJJ Blackbelt.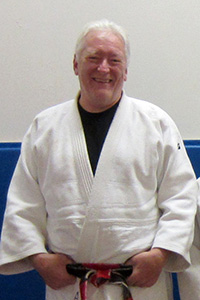 In 1983, Art became the 9th head instructor of The Philadelphia Judo Club and led the club for the next 25 years. Currently considered the "Professor Emeritus" of the Philadelphia Judo Club, Art comes in whenever he can and provides his insights from decades of Judo and Martial Arts experience. He is a great judoka, teacher, and story-teller (see his telling of our club's history), and an inspiration to every member of Osagame from white belt to black belt.
A former competitive natural bodybuilder and personal trainer, Beth is also one of the owner/operators of Osagame. She has a long history in personal training; 5 years ago she expanded to teaching Kettlebell classes as well.
A Math teacher by Profession, Beth is a Brown Belt (Sankyu) in Judo and a Blue Belt in Jiu-Jitsu. She competes in BJJ and in Judo Kata.